Just Subscribed Through App Store But Account Not Renewed

If you have just upgraded to Paid Member through App Store but your account has not been renewed, it is possible we were not notified of your purchase by Apple.

Please upload your App Store receipt manually.
1. Tap [My Library] → the gear icon to the top right corner of the page → [View Plan].
 ※Versions older than KKBOX iOS 7.16.50: Tap [More] → [View Plan]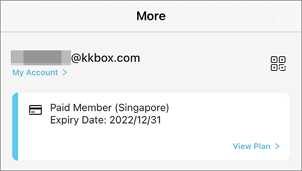 2. Tap [Send iTunes receipt] (to the bottom of the page).



3. Choose the receipt for the recent KKBOX purchase and tap [Send (Upload)].
4. Log out of KKBOX and log back in to see if your account has been renewed.

In case the above method did not work, we recommend requesting a refund from Apple.
 ※KKBOX is not authorized to process subscriptions through iTunes App Store.

At the same time, you might like to consider subscribing through our Payment Center. We provide a diversified and convenient choice of payment methods.

Was this answer helpful?
If not, contact Customer Service by choosing the 【No】 button.