Cancel My Subscription Purchased Through App Store

KKBOX cannot cancel your subscription from our end. Please refer to the steps below to cancel through iTunes App Store.

※NOTE※
●Apple does not immediately notify KKBOX of your cancellation. KKBOX will be notified 3-5 days after your subscription has expired.
 For example: Your subscription expires on 13 Aug. Your iTunes App Store subscription will be updated at around 18 Aug.
●Refer to Apple Support for more information, or contact Apple Support for assistance.

1. Open the Settings app, and tap your name.
2. Tap [Subscriptions], and tap [KKBOX].
3. Tap [Cancel Subscription].
4. If you don't see [Cancel], or see an expiration message in red text, the subscription is already canceled.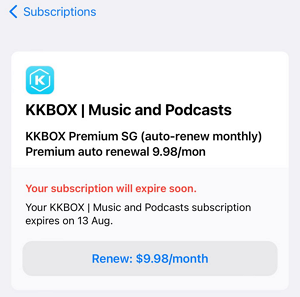 Was this answer helpful?
If not, contact Customer Service by choosing the 【No】 button.