Just Subscribed Through Google Play But Account Not Renewed

If you have just upgraded to Paid Member through Google Play but your account has not been renewed, it is possible we were not notified of your purchase by Google.

Please upload your App Store receipt manually.
1. Tap [My Library] → the gear icon to the top right corner of the page → [View Plan].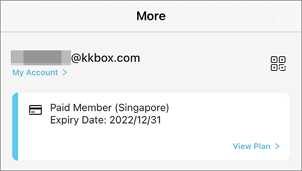 2. Tap [Send Google Play Store receipt] (to the bottom of the page).
3. Choose the receipt for the recent KKBOX purchase and tap [Send (Upload)].
4. Log out of KKBOX and log back in to see if your account has been renewed.

In case the above method did not work, please send us a screenshot of your Google Play receipt (must contain the order number starting with "GPA") by choosing the button below.
If you do not find the receipt in your email, please see Google Help for more information.

#30 seconds
If you require further assistance please do not hesitate to contact us.