How to Change My KK ID/ Link KK ID To A Phone Number

After linking your existing KK ID to a phone number, you can then choose to log in with either your email or phone number.

※Note:
1. You can only link your account with a number that has not been used to sign up for KKBOX.
2. Filling in the "Mobile Number" field under the 【Contact Details】 section does not mean your account is linked to the number.
3. Service is activated under your phone number account when you subscribe through certain telcos (Taiwan: Chunghwa/ Asia Pacific/ Taiwan Star Telecom, Hong Kong: 3 Hong Kong).
To continue using your existing email account, ensure you have linked your KKBOX account to your phone number BEFORE subscribing through your telco.


1. Log in Member Account and choose [Personal Information].
2. Choose [Add Mobile Number].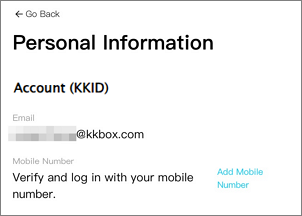 3. Enter your phone number and choose [Send Verification Code].
 ※Do not close this page before you have entered the code.
4. Enter the code sent to your phone and complete the process.
5. When your account is successfully linked to a phone number, a verified appears next to your number.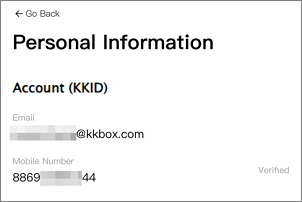 Still want to change your account?

Before you write to us by choosing the 【No】 button below:
1. Ensure you have disconnected your KKBOX from Apple ID and/or Facebook.
》Please see 【Disconnect KKBOX with Facebook/ Apple】 below for instructions.

2. We cannot change the linked number directly.
If you need to change the linked number (i.e., from "123456" to "654321") please register a new account using the new number before contacting us.

3. We cannot merge accounts.
When you change your account (i.e., from [Email A] to [Email B]) we're only changing the account ID whilst everything else remains the same.

For example,

Before
After

Account A: ABC@gmail.com


Paid with credit card


10 playlists




----------




Account B: 123@gmail.com




No payment record




1 playlist

Account A:123@gmail.com




Paid with credit card




10 playlists




----------




Account B:ABC@gmail.com




No payment record




1 playlist
Your question was different? You can see
If you require further assistance please do not hesitate to contact us.