【iOS】How to Set Up Siri Shortcuts

How to add Siri Shortcuts?



1. Tap the

button in Offline Songs or in any of the playlists My Playlists.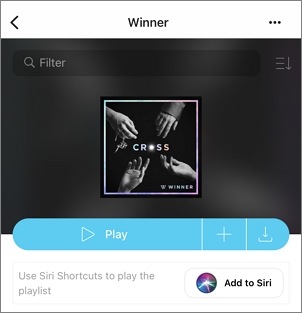 2. Enter the command for playing this playlist.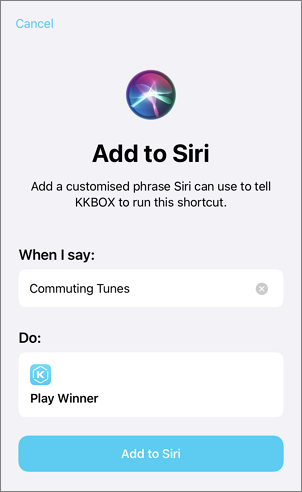 How to delete a Siri Shortcut or re-record a voice command?


There are three ways to change your Siri Shortcuts:
1. Tap [My Library] → the gear icon to the top right corner of the page → [Playback] → [Siri Shortcuts] and choose the command you want to re-record or delete.
2. Tap the

in your playlist and choose the command you wan to re-record or delete.
3. Tap on iOS [Setting] →[Siri & Search] → [My Shortcuts], and choose the command you want to re-record or delete.




When I try to use a voice command, Siri pops up a message about opening KKBOX.


Here are a few things to look into:
1. Siri converts each voice command to text. If you give a voice command that doesn't match the text, Siri can't play the right song for you.
2. Check your network and that KKBOX is online, as tracks can't be streamed when you're offline.




KKBOX is playing music but I can't see the app running in the foreground. Why?


Siri Shortcuts launch the KKBOX player in the background. To stop a track or skip to the next one, either ask Siri or open the KKBOX app.
If you require further assistance please do not hesitate to contact us.